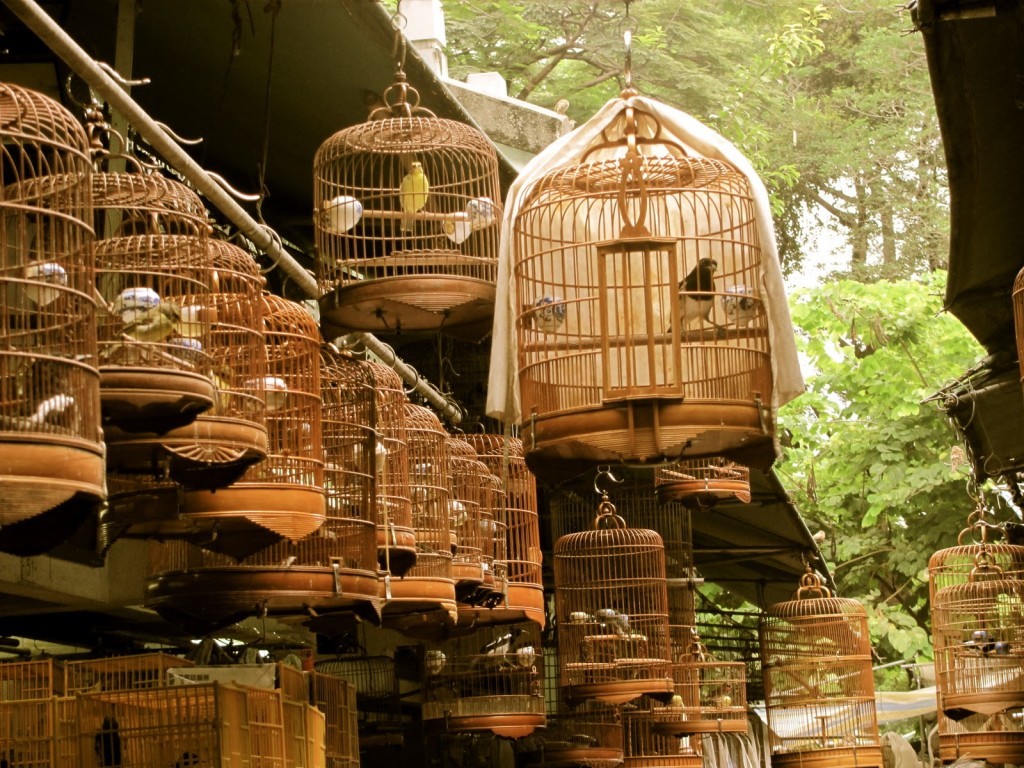 Most of the visitors to Hong Kong who have the intention of shopping visit malls but do you know there are other places like street markets, road-side shops and other spots that are better than malls. If not, then we will tell you the most visited street markets that are actually fun shopping and worth visiting as you can see the real local atmosphere of Hong Kong.
The takeaway, they are very close to Kowloon and can be reached using a metro.
Bird, Fish, and Flower Markets:
The Fish Market, Yuen Po Street Bird Garden and the Flower Market are just a walk away distance to each other, especially if you are in the Kowloon area. The bird and fish markets are live markets. If you wish you can carry a live bird or fish to your hometowns.
The flower market will give you all varieties of local and international plants & flowers that are as fresh as the morning breezes. Majority of these shops are permanent and present on sidewalks in an organized way giving good space to shop and walk in between them.
Remember these aren't only places to shop but also carry beautiful sightseeing experiences and buzzing life so give work to your cameras and capture the moments of life once for all.
Coming to Yuen Po Street Bird Garden popularly known as the Bird Market it is completely different from dog parks as it is a market too. The market on one side has live birds that are caged and perched and are for sale. The other end of the market is occupied with bird owners who are there to sell. This side of the street is always happening as owners can be seen socializing around. The cages are either placed on fence posts or hung to hooks.
The Fish Market gives you the feeling that you're walking in between fishes as you can see lined fish stores on the sidewalks. You can see fishes displayed both in the stores and on the footway. While the sideway displays live fish hanging from pegboards securely packed in transparent bags the stores have traditional tanks and aquariums.
If you wish to treat yourself with countless colors and priceless fragrances then Flower Market is where you should hit once you land down a Cathay Pacific flight or for that instance any flight you have boarded.
The best place to stay to enjoy and explore these 3 markets is the Mong Kok area in Kowloon as they are close to this region.
Reclamation Street Market:
Hong Kong is famous for the night market and night fun but this is different. Reclamation Street Market just hits liveliness during the day being a day marketplace. It is a market for locals where people reach it in the early hours itself to purchase fresh edibles like fish, dressed meats and veggies. The place also sells a certain type of clothing and everyday items.


Well, you may be surprised as what I have to do with this place being a tourist. Well, our only intention is, it is a good place to pack your bags with some fresh fruits in case the food doesn't suit your tummy.


Moreover, the place isn't congested and so you can as well just stroll around. If you have the habit of walking this should be your best place.
Present in Kowloon the street is dead close to the Temple Street Night Market and runs equivalent to Nathan Road.
Cat Street:
This is the best place for travellers to kill time on Hong Kong Island. You can pick a dish to eat or simply wander about the street. Located parallel to the Upper Lascar Row it is completely different to the markets mentioned above as it is purely a tourist market and not intended for locals.
Famous for art galleries and antiques, this street is a must-visit for all tourists who are in Hong Kong. People visit this place to buy jewellery, local eatables and other costly gifting items.
Sellers just set tables or stalls and carry on their trading. This is the best place to shop if you don't like overcrowd.
The best part is you get everything that's found in the Temple Street Night Market and the Ladies Market but with lesser crowd.
In addition to these 3 markets also visit the Temple Street Night Market and the Ladies Market. We say this because if you don't visit these two probably you may miss something but we aren't sure.