If you are thinking to live the experience of camel ride with Morocco desert trips in a short time, the desert of Agafay is of the most marrakech excursions, a real desert 30 minutes from Marrakech, located about 30km from the ocher city, this little-known gem stretches over several hundred hectares on the first heights of the Haut-Atlas mountains.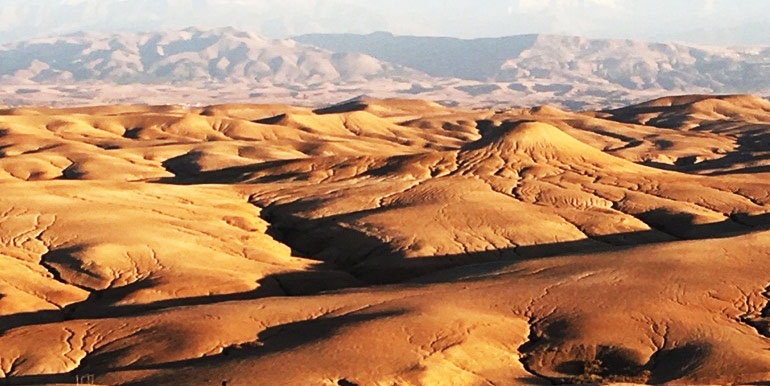 If you delight in Moroccan cuisine, enjoy indulging in daring activities, relax at the sight of sunrises and sunsets, or you're getting married, you'll love Agafay desert.
This Moroccan hidden gem caters to every need, preference, and personality, whether you're a fan of wildflowers and dune-gazing or you prefer to wander in the desert.
During the weekend, people from Marrakech and the regions embark on an Agafay Desert Day Trip .They use their 40 kilometres advantage and utilise Agafay desert for horse-riding and dune gazing.
Oh, and it's an all-time favourite for the newlyweds, either as a honeymoon destination where they can enjoy the romantic atmosphere or as a venue for their wedding.
What makes Agafy Desert special is its ability to change moods, atmospheres, and… ground?
During spring, you'll spot wildflowers and wheat take over the Agafay Desert. Which makes a perfect setting for those who wish to horse-ride and wander around Agafay. And in summer and autumn, Agafay magically turns into an actual desert, with moving dunes and sand.
"Row row row your boat"
Here's an excerpt of a conversation one of our guides heard during an Agafay Desert Day Trip;
Jillian says, to our guide, "I heard you can canoe here. Can we do that?" Her brother interrupts with a chuckle and says "It's a desert, Jill, you can't row in the sand."
And boy was Simon mistaken – technically. It's true, you can't row in the sand, but you can in Lalla Takerkoust. A man-made reservoir that'll provide you with a feeling of excitement, joy, and easiness.